Home Health Services:

Fresno Yosemite Health Care, Inc. (FYHC) offers a wide range of services for each patient, depending on the patient's needs.

FYHC will Offer quality and friendly services including: skilled nursing, catheter care, colostomy care, wound care, case management, CHF, dementia, early Alzheimer, diabetes, arthritis, pain management, end of life care, IV therapy, physical therapy, social services, home health aide, and light housekeeping. We extend our services to Fresno, Clovis, Madera, Kingsburg, Reedley, Sanger, Del Ray, Dinuba, and Fowler Area.

Skilled Nursing Care
Our registered nurses coordinates the patient's plan of care with a physician and provide skilled services on an intermittent basis. The level of care and the number of visits depend on the patient's needs. We also have a nurse on call 24/7.

Medical Social Worker
Acting as advocates for our patients, our medicl social workders help in identifying resources that can help with personal, emotional and financial difficulties.

Home Health Aides/Homemakers
Our home health aides/Homemakers help patients with personal care, exercises, meal preparation, and light housekeeping.

Rehabilitation Services
FYHC offers Physical Therapy (PT). Our main goal of therapy is to enhance the adaptability of our patients to their home environment and help them achieve the highest degree of lifestyle attainable given the limitations of their medical or physical conditions.

---

As a recipient of Federal financial assistance, Fresno Yosemite Health Care, Inc. does not exclude, deny benefits to, or otherwise discriminate against any person on the basis of race, color, national origin, disability, or age in admission to, participation in, or receipt of the services and benefits under any of its programs and activities, whether carried out by Fresno Yosemite Health Care, Inc. directly or through a contractor or any other entity with which Fresno Yosemite Health Care, Inc. arranges to carry out its programs activities.

This statement is in accordance with the provisions of Title VI of the Civil Rights Act of 1964, Section 504 of the Rehabilitation Act of 1973, the Age Discrimination Act of 1975, and Regulations of the U.S. Department of Health and Human Services issued pursuant to these statues at Title 45 Code of Federal Regulations Parts 80, 84, and 91.
---
---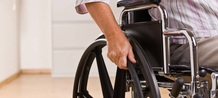 Fresno Yosemite Health Care, Inc. strives to be accessible to as many patients as possible without limiting access to patient with disabilities. All patients will be assessed for their accessibility needs on referral and during admission process. The admission nurse will assist patient for these needs.

Social services will be ordered for all disabled patients when possible to assist case management and to help patient understand the existence and location of services available in their community that might meet some of their needs.
---
---
All patients receiving home care services from Fresno Yosemite Health Care, Inc. shall have the following rights.
To be fully informed, as evidenced by the patient's written acknowledgement, prior to or at the time of admission, of these rights and of all rules and regulations governing patient conduct.
To be fully informed, prior to or at the time of admission, or services available in the agency and the charges for services not covered under Titles XVIII or XIX of the Social Security Act. A fee schedule will be given to private pay patients.
To be fully informed by a physician of his/her medical condition including the diagnosis and prognosis unless medically contraindicated, and to be afforded the opportunity to participate in the planning of his/her medical treatment and to refuse to participate in experimental research.
To refuse treatment to the extent permitted by law and to be informed of the medical consequences of such refusal.
To be assured confidential treatment of personal and medical records and to approve or refuse their release to any individual outside the agency, except in the case of transfer to another health facility, or as required by law of third-party payment contract.
To be treated with consideration, respect and full recognition of dignity and individuality, including privacy in treatment and in care for personal needs.
To be assured the personnel who provide care are qualified through proper education and experience, to carry out the service for which they are responsible.
To be informed by the agency of procedure for registering complaints confidentially.
To be assured the patient and his/her family will be taught about the illness so that the patient can help himself/herself, and the family can understand and help the patient.
Questions or complaints may be directed to:
Vatsana Vongsavanh, DON
(559) 255-9965
For further assistance, please contact:
Jay Mendel, RN, Executive Director
(559) 255-9965
---
How to Use Interpreter Service
Call AT&T 1(800) 628-8486
Let them know what language you need.
Ask them to call FYHC (may use collect). FYHC (559) 255-9965. A nurse will assist you as soon as possible.
How to Use Interpreter ServiceTTY/TDD State Relay System
Dial 711 from any land line phon
Provide the operator with your name, the number 559-478-7852 and ask for a RN.